Favorite scenes from The Clone Wars
Go to page :
1, 2
General Grievous wrote:Wow, I didn't know we'd be having all those villains in one arc! Apparently the heroes will be having a run for their money, big-time...

As for my fav scene (there are many so I'll just post 'em sporadically whenever I'm in the mood XD), I loved it whenever Krell was confronted by Rex and the clones in the command center during Carnage of Krell, especially when we discovered he was the next Starkiller, mauled about half the people in the room, then busted out the window only to take on yet more clones before finally escaping. The animation and action was amazing! Not to mention, the shock that came with him actually being a traitor.
I know what you mean! Almost all of that episode...
and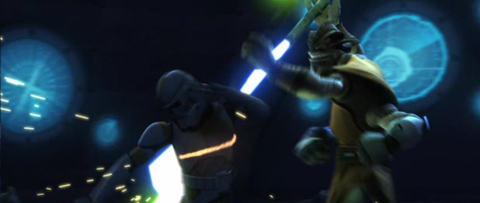 and
Moments of epicness!
Go to page :
1, 2
Permissions in this forum:
You cannot reply to topics in this forum